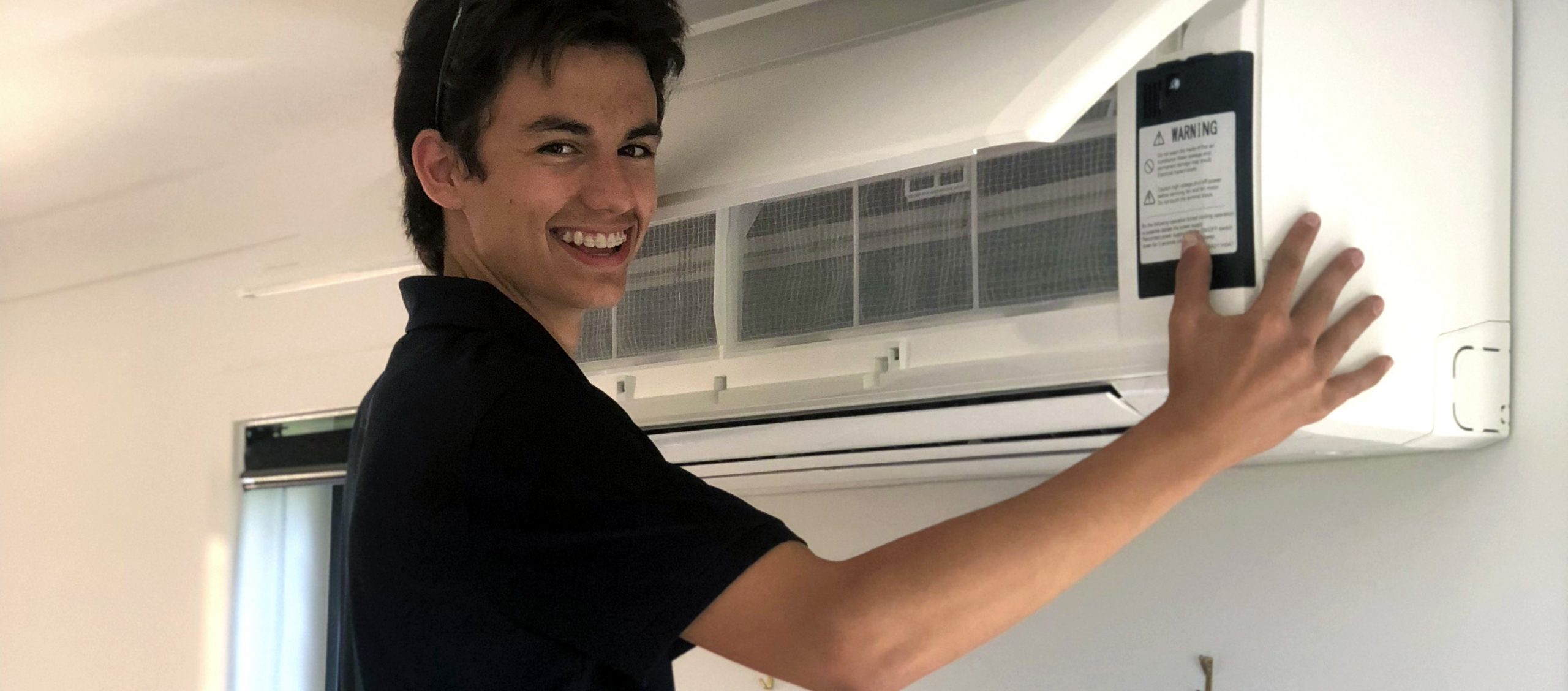 Questions to ask your air conditioner tradie
Get the job done right and save money too!
We're sure you'll agree that your air conditioner is one of the most important appliances in your home – at least on our hot Queensland summer days! So when something goes wrong and your air con needs to be repaired, it can be hard to know who to ask for the best advice. With so many different service providers, how do you know if you're getting the best service?
Here are the questions you should be asking your air conditioner tradie to get the job done right – and potentially save you money at the same time.
1) Should I repair or replace the air conditioner?
Of course, the biggest question to ask when something goes wrong with your air conditioner, is can it be repaired, or does it need to be replaced?  This applies to the parts of your air conditioner, as well as the entire unit itself.
Most split system air conditioners will have a lifespan of about 7 years, and for systems that are more than about 10 years old, finding replacement parts might be hard.
When discussing the options for repair or replacement with your tradie, consider some of these key questions:
Is it likely to need more repairs in the future?
Are replacement parts easily available?
How much will repairs cost?
What are the running costs of your current air conditioning versus a new air conditioner?
Given that a new air conditioner will be more energy efficient, and better at cooling your home, it may well make sense to replace the unit and ultimately enjoy savings from more efficient operation.
2) Are you a refrigeration mechanic or just a licensed electrician?
Whether you choose to repair or replace your air conditioner, be sure to use a licensed repairer or installer. A specialist refrigeration mechanic will be able to offer advice and provide a level of service and experience that is superior to a licensed electrician.
In Australia, you should also check to see if your tradie is licensed by the Australian Refrigeration Council (ARC). These licenses can vary and may be valid for repairs and service, or installation only. Using tradies who are licensed will ensure the job is done properly and is particularly important when repairing older air conditioners and handling the dangerous greenhouse gases contained within the unit.
Some electricians carry a restricted split system install license. However, the most reputable air conditioner tradies, like Jaric Air Conditioning, will hold a full refrigeration and air-conditioning mechanical engineering qualification, ensure staff have completed a 4-year apprenticeship and hold the ARC tick.
3) Is this the right air conditioner for my needs?
This is a big question to consider, having decided to replace rather than repair your air conditioner. Replacing your air conditioner is more involved than simply removing the old unit and installing a new one.
Take time to discuss your air conditioning needs with your tradie. Consider some of the following:
Do you use your system for heating as well as cooling?
How big is the area you are trying to cool?
What is your budget in terms of running costs?
Do you need remote access to your air conditioner?
Is the unit the right size for your home?
Is the air conditioner a quality brand with a good warranty?
Your licensed air conditioner tradie will be able to help you navigate your way through all of these questions to choose the right air conditioner for your home, and install it properly, ensuring many years of smooth operation.
4) Do you offer a guarantee for this work?
The final question for your air conditioner tradie is 'do you offer a guarantee?'. Choose a reputable, licensed tradie who is prepared to back up their claims with a guarantee on their workmanship.
Talk to Jaric for expert advice on air conditioning
When something goes wrong with your air conditioner, it can be hard to know where to turn for the best advice and assistance. Whether you are replacing or repairing your air conditioner, look for licensed and experienced tradies who can help you navigate through the process. Asking the right questions of your air conditioner repairer could save you thousands and help ensure your home is beautifully air conditioned all year round.
For expert advice on air conditioners, talk to our friendly team of specialists at Jaric Air Conditioning today. Contact us online or call us at 1300 452 742 and get personalised advice and solutions for your home or business today.